I recently received this kind request:
"I love your site and style it fits me perfectly! My best friend L. told me about it! I am asking if you have any fun sites for maternity clothing, etc. I am about 3 months along and haven't got a clue whats out there now. My last child was born 3 years ago!
Any help would be appreciated!"
Thanks, Sarah! I'll start with bottoms, since that is the first place most women need more room. And by bottoms, I mean jeans, because they're everyone's fave, right?
Maternal America Classic Fit Maternity Jean, Due maternity
, $87. These are a great basic. The designer vibe, minus the $200 price tag.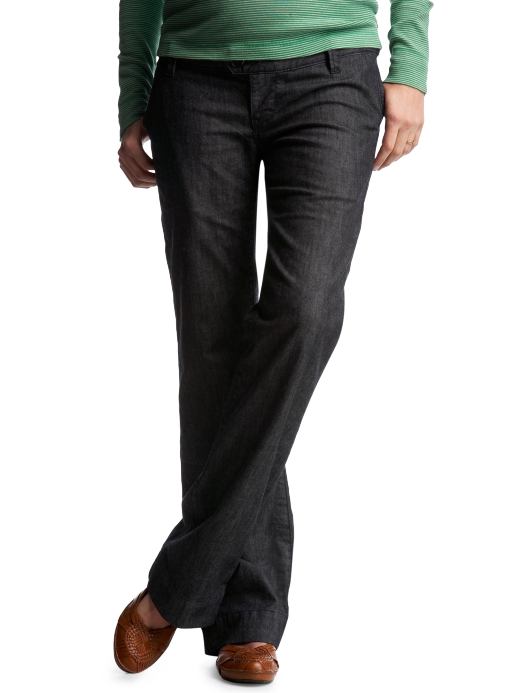 Hidden panel Clinton trousers, gap.com
, $68. Our mutual friend, L., was looking fabulous in these recently. I am always a fan of trouser jeans! A flattering look that easy to dress up or down.
Maternity Roll-Panel Wide Leg jeans, oldnavy.com
, $36.50. Check out the cute blue-grey denim! These scream cute and comfy at a very comfortable price.
Other stylish ways to cover your lower half...
Due Essential Maternity Skirt, Due maternity
, $68. It's all about comfort. This wide elastic band will enable you to wear the skirt all throughout your term and while you transition back into your normal size. This attractive slate color is very versatile.
And
, you can definitely wear this skirt to work.
5-pocket denim skirt, Destination Maternity
, $35. I actually wore this skirt a lot when I was expecting last year. Like wearing jeans, but you get a nice breeze.
The Softest Yoga Pant by Majamas, Figure8 maternity
, $45. Yoga pants give you that easy, luxurious feeling of supreme comfort. And these days, it's acceptable to wear them casually just about anywhere.
Stay tuned for more stylishly simple maternity finds.