When Michelle mentioned her search for a semi-formal dress to wear to a law school function, my first thought was Little Black Dress. As an intern and future attorney, she will be required to attend numerous semi-formal social events. If you have a similar career path, or are married to someone who does, you may want to take note...
According to Wikipedia,

A little black dress is an evening or cocktail dress, cut simply and often with a short skirt, originally made popular in the 1920s by the fashion designer Coco Chanel. Intended by Chanel to be long-lasting, versatile, affordable, accessible to the widest market possible and in a neutral color, its continued ubiquity is such that many refer to it by its abbreviation, LBD.

The "little black dress" is considered essential to a complete wardrobe by many women and fashion observers, who believe it a "rule of fashion" that every woman should own a simple, elegant black dress that can be dressed up or down depending on the occasion: for example, worn with a jacket and pumps for daytime business wear or with more ornate jewelry and accessories for evening. Because it is meant to be a staple of the wardrobe for a number of years, the style of the little black dress ideally should be as simple as possible: a short black dress that is too clearly part of a trend would not qualify because it would soon appear dated.
Soapbox moment: I think people are often way too casual these days when attending special occasions (like wedding receptions!). If you feel like you never know what to wear--invest in one simple, elegant black dress. Wearing a somewhat formal dress shows taste and respect for the important occasion. When in doubt, over-dress!

Basic Black Olivia, Shade Clothing, $90. Simple and elegant.
Sabrina, Shabby Apple, $96. Pretty satin dress with separate tulle slip.

Teri Jon Belted Silk Shantung Shirtdress, Nordstrom, $308. This one is also gorgeous.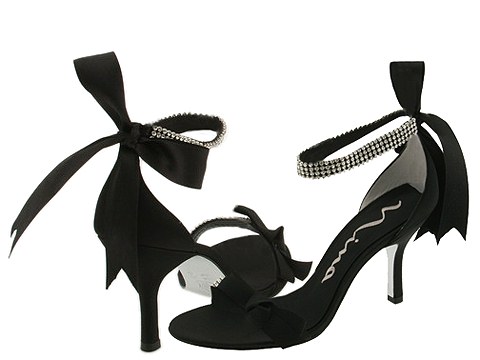 Nina Geniza black luster satin, Zappos.com, $100. Just like the LBD, every woman needs a good pair of black dress shoes. Nina makes some beautiful formal shoes. Select a high quality, classic style and (along with your dress) you will be ready for wherever life takes you!