...as in diaper bag "slash" purse. Kelli requested a large bag that can be used for either, preferably in yellow, and on the less-expensive side. Here are a few finds for ya, and anyone else who needs a casual carry-all.
Suzy Q tote, Alloy
, $30.
Pedley Hobo, Alloy
, $30.
Mexicali Tote, Alloy
, $25.
Printed Scarf bag, Old Navy
, $20.
There was a Kate Spade bag about a month ago that I really liked, but I cannot seem to find a picture of it now. Must've sold out. Anyway, this one from Gap is similar, and probably $300 less...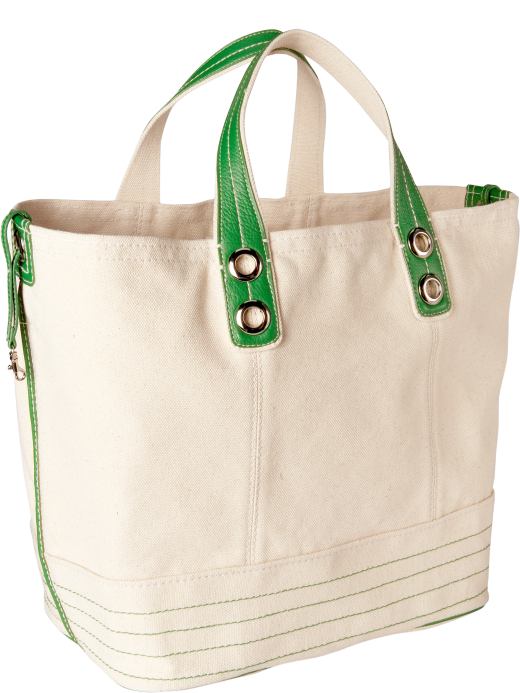 Color-trimmed tote, Gap
, $20.
I have to do a little product endorsement for the bag that I use...Storksak's Gigi bag. It is awesome. It's nice looking, my husband Brandon doesn't mind carrying it, it holds and organizes everything, and the adjustable straps let me hang it on my stroller or my shoulder.
Storksak Gigi Chocolate Diaper Bag, BlissLiving.com
, $198.
The French company Murval often has stylish and affordable bags. Find this safari one at
Twin Totes.com
for $35, including monogram, if you like. Check out more Murval merch online at
GiveSimple...like this Murval diaper bag
for $50.
(Above) This
Patent Tote by Forever 21
, $33, reminds me of (below) this
Marc by Marc Jacobs bag, Dr Q Huge Tote, zappos.com, $502
.
Hope that helps! Anyone else have any favorite bags to share?