The Dress. One piece of clothing and you're ready to go...an irresistible concept especially in the UNBEARABLY HOT summer months ahead. Personally, I've been stocking up so I can wear a dress every day of the week--I can't get enough of those delicious cooling breezes that pants just don't provide. I'll be honest, I felt a little silly the first few times I wore a "Sunday" dress to the playground...but it's just so comfortable you have to try it!
I suggest wearing flat sandals if you're going casual. Save the heels for dressier occasions.
Now presenting a random smattering of dress I adore...
Cap Sleeve Chemise, Peruvian Connection
, $98. Yum.
Cat's Cradle, Shabby Apple
, $62. No fuss bubble gum pink.
Market Dress, Down East Basics
, $27. I really like the vintage appeal of this unusual cotton print. Nice price, too.
Sidney, Layers Clothing
, $38. You could totally chillax (chill and relax, I thought Brandon made this word up but it turns out that I did) in this one. But don't wear those shoes. Ever.
And for just $100 more, you can get this one: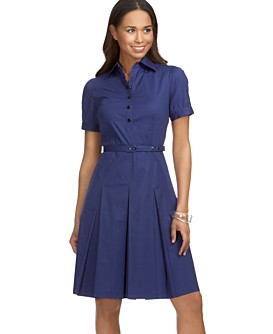 Tahari by ASL, Macy's
, $138. Flattering--nipping in just at the natural waist like that.
Isabelle, Mika Rose
, $60. Now here's a dress that can go both ways. So cute.
Nicole, Mika Rose
, $50. Just detailed enough to keep things interesting.
Paisley Jacquard Dress, Peruvian Connection
, $329. I can dream. It's just too pretty not to include. Something about today's post gives me an inexplicable urge to go platinum blonde...